Community
June 25, 2017
Pacific Crest Triathlon, Sunriver OR. Sarah Williams came in 3rd in her age group in the 70.3 Beastman Triathlon. Nice job Sarah!
"I will admit I was nervous about this race, it's reputation of being a difficult rather challenging course on the bike with climbing to 7000 ft is enough to make me question my sanity for signing up. But like all of us multi-sport athletes the challenge was one I was hungry for. I am always so amazed by what the human body can achieve when pushed."
"I had a race plan in place, swim, bike, run like hell. Drink 6 bottles of water with electrolytes on the bike to prevent dehydration. Racing at elevation and in the heat is a challenge all in itself. I had a race day that went all wrong from the beginning. I ended up sick the night before the race, like many other people, I experience race nerves. This ended up being more than race nerves as I found out throughout my race. In the swim, I lost my nose piece and I had never swum without one. Panic mode, I was able to calm myself and learn very quickly how to blow water out my nose and swim. My swim went longer than I liked but I got through it. During the bike, I couldn't take in much food as I became ill the moment I put GU in my body at mile 6. I struggled, but I focused on that 6 bottles of electrolytes and I knew I needed to keep trying to eat something or I wouldn't be able to finish this race. I mentally focused on self care, instead of my stomach feeling horrible. I got to the run, the first 4 miles I felt great, and then that is where it all went downhill. I am used to running at a pace of 7:45-8:45 min/mile. I was in the 10-11 min/mile range and visited multiple port o potties on the course. I was feeling a little down on myself but determined to finish this race no matter what. Self care is all I concentrated on and I didn't allow myself to have any negative thoughts about my race.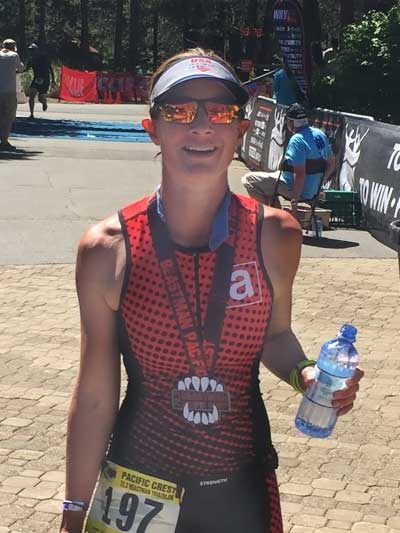 "I finally finished the Race in 6 hours 41 minutes. This is 41 plus minutes over what my personal goal was but I finished. It was a struggle the entire way. This was the toughest mental challenge I have endured in a race, but I learned so many things. Life happens to all of us, things go wrong, it is all in how you handle what is coming at you that decides what the outcome will be. I had to dig deep during this course, no negativity or self sabotage talk was allowed. I gave my very best I had on that day under those circumstances. If you put your mind to it, you really can accomplish anything. Stepping out of the comfort zone helps you grow. I also had the wonderful opportunity to learn to swim without a nose clip. All of these lessons are so valuable to me. After all of this, I still came in third in my age group. The biggest lesson I take with me to every race is that this race in not over until you hit the finish line. This was proven over and over to me on this beautiful course at Pac Crest. Never give up, accomplish your goals even if your day goes sideways. You will be pleasantly rewarded in many ways if you stick with it."
"I will absolutely do this course again and hope to goodness I have a better day. The course was beautiful, well laid out, very safe and aid stations everywhere which I needed every single one of them. Don't be thrown off by the rumors of how difficult the course it, just go out and give it your best shot."
Previous: Ken Zell - Ironman 70.3 St. George Utah